The second week of 1977, England saw the coldest January in 14 years.
Low pressure carried from northern Europe brought heavy snowfall across the UK.
On January 12th, 1977, 28-year-old Billy Hughes was to appear at Chesterfield Magistrates Court on charges of rape and assault.

Hughes had other plans. He wasn't going back to prison no matter what the cost. Pulling a stolen knife out from his boots, Billy stabs the guards, orders them out of the car, and makes his escape. Due to high speed and cold, wet roads, he crashed the car. Hughes wasted no time running across the moors in search of a place to hide.
As police officers were scrambling to find him with the help of sniffer dogs, Hughes had stumbled upon a house called Pottery Cottage, isolated in rural Eastmoor.

Hughes would hold a family of five hostage for the next few days. Only one would survive.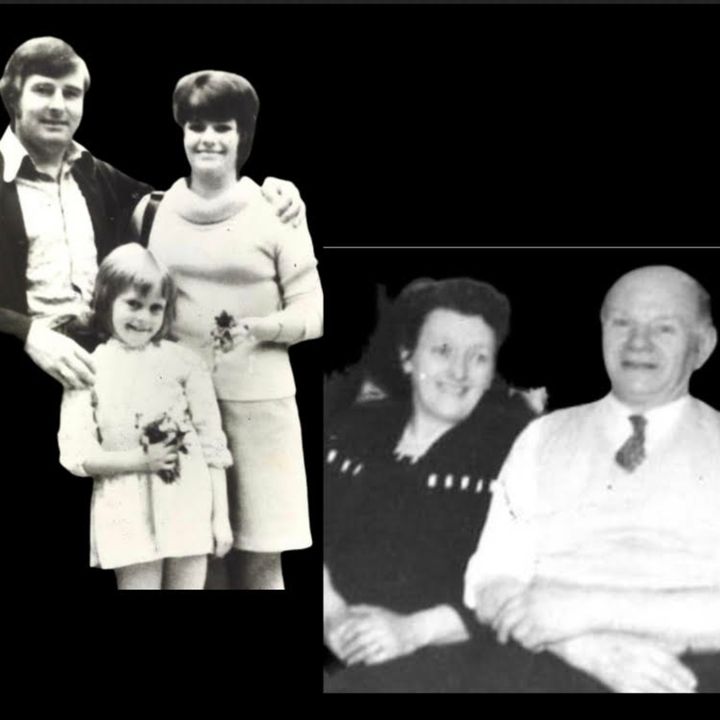 Join Cam and Jen as they discuss the Pottery Cottage Murders. Thank you to our friend and listener Louise for requesting this case.
*****Warning***** Jen talks about an oven fire and if she should thro flour on the flames. DO NOT do this. The flour will catch fire and make things worse. This was bad advice that was passed down to her. Be safe. Thank you Neville for correcting us.

Edward from OctoberpodVHS voices our listener discretion.
Check out his youtube channel https://www.youtube.com/c/octoberpodhomevideo
Researched and written by Eileen MacFarlane
Nico from wetalkofdreams.com is our producer in charge of sound and editing.

Check out the promos for Nico's new podcast entitled Connections
and
Kevin from The Jury Room has a new podcast called Addicted
make sure you listen

Sources:

Newsbank
Daily Mail (London, England), August 28, 1999: 16. NewsBank: Access World News. https://infoweb.newsbank.com/apps/news/document-view?p=AWNB&docref=news/1787D5CA1A40EAB0.
Independent, The/The Independent on Sunday: Web Edition Articles (London, England), March 24, 2017. NewsBank: Access World News. https://infoweb.newsbank.com/apps/news/document-view?p=AWNB&docref=news/1665BF5247AA91F8.
Derbyshire Times (England), May 17, 2017. NewsBank: Access World News. https://infoweb.newsbank.com/apps/news/document-view?p=AWNB&docref=news/164720CDD2F2BD10.
Derby Telegraph (England), November 23, 2017: 6-7. NewsBank: Access World News. https://infoweb.newsbank.com/apps/news/document-view?p=AWNB&docref=news/1685794905694CB8.
Daily Mail, The/The Mail on Sunday (London, England) (London, England), February 29, 2020: 53. NewsBank: Access World News. https://infoweb.newsbank.com/apps/news/document-view?p=AWNB&docref=image/v2%3A1754FD5BCC041490%40AWNB-1796685B8BD41210%402458909-179668A82DFD90D8%4052.
Daily Mail (London, England), March 2, 2020: 30,31,32. NewsBank: Access World News. https://infoweb.newsbank.com/apps/news/document-view?p=AWNB&docref=news/17975D211D5FB2F8.
Daily Mail, The/The Mail on Sunday (London, England) (London, England), March 3, 2020: 28. NewsBank: Access World News. https://infoweb.newsbank.com/apps/news/document-view?p=AWNB&docref=image/v2%3A1754FD5BCC041490%40AWNB-179761211D679A0B%402458912-1797615672DF5B64%4027.
Daily Mirror, The: Web Edition Articles (London, England), March 3, 2020. NewsBank: Access World News. https://infoweb.newsbank.com/apps/news/document-view?p=AWNB&docref=news/1797EC0C0DECBE38.
Daily Mirror, The (London, England), March 4, 2020: 26,27. NewsBank: Access World News. https://infoweb.newsbank.com/apps/news/document-view?p=AWNB&docref=news/17981FDBCADD8E20.
Sun, The: Web Edition Articles (London, England), March 4, 2020. NewsBank: Access World News. https://infoweb.newsbank.com/apps/news/document-view?p=AWNB&docref=news/1797EA4112795308.
Derby Telegraph (England), March 6, 2020: 18,19. NewsBank: Access World News. https://infoweb.newsbank.com/apps/news/document-view?p=AWNB&docref=news/1798C59253CA19E0.
Express on Sunday, The (London, England), March 8, 2020: 24,25. NewsBank: Access World News. https://infoweb.newsbank.com/apps/news/document-view?p=AWNB&docref=news/17993B5C2CCFCD40.

Express Archives
"The Deadly Heroes", April 28, 1977 - https://www.ukpressonline.co.uk/ukpressonline/getDocument/DExp_1977_04_28_003?fileType=PDF
"Axe Wife's New Life, With Jim", Nov 25, 1978 - https://www.ukpressonline.co.uk/ukpressonline/getDocument/DExp_1978_11_25_003?fileType=PDF
"He's Left Me Nothing", Jan 17, 1977 - https://www.ukpressonline.co.uk/ukpressonline/getDocument/DExp_1977_01_17_001?fileType=PDF
"The Killer", Jan 17, 1977 - https://www.ukpressonline.co.uk/ukpressonline/getDocument/DExp_1977_01_17_002?fileType=PDF
"The Survivor", Jan 17, 1977 - https://www.ukpressonline.co.uk/ukpressonline/getDocument/DExp_1977_01_17_003?fileType=PDF
"I Shopped For Killer", Jan 18, 1977 - https://www.ukpressonline.co.uk/ukpressonline/getDocument/DExp_1977_01_18_001?fileType=PDF
"Moor Killer", Jan 18, 1977 - https://www.ukpressonline.co.uk/ukpressonline/getDocument/DExp_1977_01_18_002?fileType=PDF
"Killer's burial stopped", Jan 25, 1977 - https://www.ukpressonline.co.uk/ukpressonline/getDocument/DExp_1977_01_25_002?fileType=PDF
"Moors murder CID boss quits", Feb 2, 1977 - https://www.ukpressonline.co.uk/ukpressonline/getDocument/DExp_1977_02_02_002?fileType=PDF
"Coroner spares Gill Moran", March 9, 1977 - https://www.ukpressonline.co.uk/ukpressonline/getDocument/DExp_1977_03_09_015?fileType=PDF
"Rees faces new row over Hughes", March 10, 1977 - https://www.ukpressonline.co.uk/ukpressonline/getDocument/DExp_1977_03_10_009?fileType=PDF
"Hughes: The 'lost' warning", March 11, 1977 - https://www.ukpressonline.co.uk/ukpressonline/getDocument/DExp_1977_03_11_017?fileType=PDF
"Pottery Cottage survivor Gill's new heartbreak", March 1, 1988 - https://www.ukpressonline.co.uk/ukpressonline/getDocument/DExp_1988_03_01_001?fileType=PDF
"Rescued From Clutches of Axe-Wielding Killer Lunatic", March 8, 2020 - https://www.ukpressonline.co.uk/ukpressonline/getDocument/SExp_2020_03_08_024?fileType=PDF

Newspapers . com
Telegraph
"Murderer was a Jekyll and Hyde type". Jan 16, 1977
"Warning on rape reporting", Jan 16, 1977
"Inquiry Called", Jan 16, 1977 - https://www.newspapers.com/clip/94859193/
"Inquiry Into Massacre Manhunt", Jan 17, 1977 - https://www.newspapers.com/clip/94859202/
"Killer sent hostages out shopping", Jan 18, 1977 - https://www.newspapers.com/clip/94859228/
"The Derbyshire Tragedy", Jan 18, 1977 - https://www.newspapers.com/clip/94859236/
"All my love" farewell to massacre family", Jan 22, 1977 - https://www.newspapers.com/clip/94859274/
"Hughes is cremated after grave protest", Jan 26, 1977 - https://www.newspapers.com/clip/94859285/

Birmingham Post
"Massacre: MPs urge inquiry", Jan 17, 1977 - https://www.newspapers.com/clip/94859214/
"Timetable of terror at Pottery Cottage", Jan 18, 1977 - https://www.newspapers.com/clip/94859216/
"Prison officers continue action over inquiry", Jan 20, 1977 - https://www.newspapers.com/clip/94859268/
"Women protest as killer is cremated", Jan 26, 1977 - https://www.newspapers.com/clip/94859296/
"Hughes charges are withdrawn", Feb 1, 1977 - https://www.newspapers.com/clip/94859308/

Online sources
https://www.lep.co.uk/news/bullet-just-bounced-his-head-and-made-him-more-wild-1115467
https://api.parliament.uk/historic-hansard/lords/1977/mar/10/the-case-of-william-thomas-hughes-1

Book
The Pottery Cottage Murders by Carol Anne Lee & Peter Howse
https://www.amazon.com/dp/B085XW3XRZ?ref=KC_GS_GB_US