A huge thank you to Cynthia Boatright Raleigh for sending us the script for this week's episode. Her excellent research and writing skills make for an
excellent story.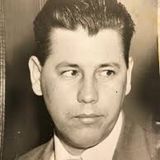 On December 2, 1954, Mary Holland was found dead on the floor of her liquor store bathroom. Her hands were tied behind her back and a .38 caliber bullet in her skull.
Three weeks later Wesley Kerr was found dead at the gas station where he worked. Hands tied behind his back and with a gunshot wound to the head.
It seemed Evansville, Indiana had a killer on the loose.
Join Cam and Jen, with the help of Cynthia Boatright Raleigh, as they discuss Leslie "Mad Dog" Irvin: Indiana Serial Killer
Thank you to Podcorn for sponsoring this episode.
With Podcorn you can find the right brand of sponsorships for your podcast.
Go to Podcorn.com and sign up today.
Listener Discretion by Edward OctoberpodVHS
https://www.youtube.com/channel/UCZQk-oAsjZNG18y8bX24c6w
Producer and sound editing: Nico Vettese wetalkofdreams.com
Original music by Nico Vettese @wetalkofdreams
Sources:
• Browning Genealogical Database: http://browning.evpl.org/
• Courier & Press photo archive: http://digital.evpl.org/cdm/landingpage/collection/p16848coll1
• Courtlistener.com: https://www.courtlistener.com/?q=Irvin+v.+Dowd
• Henderson Kentucky History: http://hendersonkyhistory.com/DuncanMurders.htm
• Murderpedia.org: http://www.murderpedia.org/male.I/i/irvin-leslie.htm
• Newspapers.com: Evansville Courier-Press 4/13/55; Harrisburg Daily Register 4/14/55; Franklin Star 1/23/56; Nashville Banner 4/14/55; St. Louis Globe-Democrat 2/10/56; Danville Bee 4/14/55; Princeton Herald 1/25/56; Kokomo Tribune 1/19/56; Terre Haute Star 6/14/62.
• Princeton Daily Clarion: Newspapers from April 11, 1955-January 29, 1956.
• Public vital records: Census records, death certificates
• WNIN television special "Top 9 Series – Crime": https://video.wnin.org/video/wnins-top-9-crimes/