On July 21, 1972, a man named Gerard John Schaefer picked up two teenage girls who were hitch-hiking. Schaefer told 17-year-old Pamela Wells and 18-year-old Nancy Trotter that hitchhiking was illegal in Martin County. It wasn't, but they were young, so they believed him. What this stranger had planned for these two young teens would, thankfully, not happen. The story these two girls would tell officers would lead to a trail of victims and from an unlikely suspect.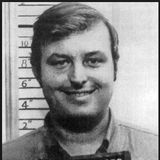 Join Jen and Cam on this Our True Crime Podcast episode entitled 'To Protect and Serve...and Murder.'
This episode is sponsored by Iconic Protein Drinks available at drinkiconic.com or on Amazon. Use code
ourtruecrime
for a 25% discount on your order.
We are also sponsored by Elemis, the #1 luxury British skincare brand. Visit https://www.elemis.com/us/ourtruecrime to get your discount on a product you will love.
Our listener discretion is courtesy of our friend Edward from @octoberpodVHS
Our Executive Producer and composer of our amazing theme song is the great Nico Vettese @wetalkofdreams
Sources:
https://www.youtube.com/watch?v=gjV7NDAUW7s
https://www.amazon.com/Hangman-Life-Crimes-Gerard-Schaefer/dp/1987902165
https://en.wikipedia.org/wiki/Gerard_John_Schaefer
https://criminalminds.fandom.com/wiki/Gerard_Schaefer
https://news.google.com/newspapers?nid=1346&dat=19780512&id=T1RNAAAAIBAJ&sjid=qfoDAAAAIBAJ&pg=6167,3669114&hl=en
https://www.youtube.com/watch?v=axY-2QEDlIQ
https://alookintotheworldofserialkillersandothermurders.wordpress.com/2015/08/25/gerard-john-schaefer-a-kiiller-cop-doing-doubles/
https://books.google.com/books?id=7K4amzFbIrYC&pg=PA50&lpg=PA50&dq=St.+Thomas+Aquinas+High+School+Gerard+Schaefer&source=bl&ots=xYZXzXo-11&sig=IrrVelIDattEMG4MVndcjeeU5nw&hl=en&sa=X&ved=0ahUKEwi11_j5yuPbAhWTAHwKHaoSBKI4ChDoAQhDMAg#v=onepage&q=St.%20Thomas%20Aquinas%20High%20School%20Gerard%20Schaefer&f=false
https://books.google.com/books?id=fmfxBQAAQBAJ&pg=PA137#v=onepage&q&f=false
https://web.archive.org/web/20100710153845/http://web.ukonline.co.uk/ruth.buddell/schaefer.htm