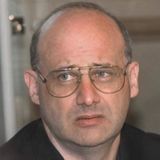 How many times in your head have you thought about being someone? Like a famous actress? An award winning author? A huge sports star? Today's story is just that. It reads like a dramatic movie plot featuring Leo DiCaprio as the handsome young doctor who worked hard in the healthcare field, saving lives by the day and discovering the cure for cancer at night. The difference is that Jean-Claude Romand is no Leo and well, actually he is not a lot of things and that is where all the trouble begins.
Join Jen and Cam on day 5 of The 12 Nightmares Before Christmas as we discuss the crazy tale of Dr. Who? on Our True Crime Podcast.
Seasonal Listener Discretion is by the Magical Edward OctoberpodVHS @octoberpodVHS.
All music/ editing is courtesy of our Christmas Angel, Nico from @wetalkofdreams.
Sources:
https://www.bbc.com/news/world-europe-48790276
https://www.france24.com/en/20190628-notorious-french-doctor-who-killed-family-released-abbey
https://www.newser.com/story/277129/free-after-26-years-guy-who-killed-wife-kids-parents.html
https://www.channelnewsasia.com/news/world/notorious-french-medical-impostor-and-killer-to-be-freed-lawyer-11479030