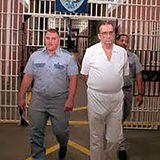 On August 6, 1966, Kenneth McDuff and Roy Dale Green spent the day working for Kenneth's dad pouring concrete. When they finished for the day they decided to go out and drive around and 'look for a girl.' Sadly they would come upon three teens and commit an unthinkable act.
At 10 pm that night, 17-year-old Robert Brand, 16-year-old Edna Louise Sullivan who was Robert's GF, and Robert's 15-year-old cousin Mark Dunman just hanging out in Everman, Texas when McDuff noticed Edna Sullivan. He pulls up alongside the teens, pulls a .38 Colt revolver and ordered them to get into the trunk of their car.
Join Jen and Cam on this day 9 of 12 Nightmares Before Christmas as we discuss The Broomstick Killer.
Seasonal Listener Discretion is by the Magical Edward OctoberpodVHS @octoberpodVHS.
All music/ editing is courtesy of our Christmas Angel, Nico from @wetalkofdreams.
Sources:
https://www.texasmonthly.com/articles/free-to-kill-2/
https://en.wikipedia.org/wiki/Kenneth_McDuff
https://www.amazon.com/Bad-Boy-Kenneth-Notorious-History/dp/0312981252
https://www.mariomadridlawfirm.com/kenneth-mcduff-the-serial-killer-sentenced-to-death-and-then-released-on-parole/