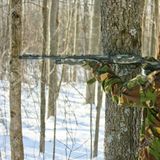 It is April 1, 1989 and 35 year old Donald Welling was enjoying what he often did on weekend mornings which was taking a jog on the pretty back roads of Tuscarawas County. The peaceful moments of enjoying his run were shattered as a long shot rang out. The rifle bullet struck the middle of his heart killing him instantly. It was just 19 months later when on November 10, 1990, when 21 year old Jamie Paxton decided to go out and do some bow hunting with his crossbow. He found a nice area off state route 9, parked his car and got out to take a walk and get a look around. He left his weapon in the car. As Jamie was strolling along, lost in thought, he didn't realize a man had pulled up and parked near his car. Again, shots rang out. Jamie fell to the ground after being struck three times from a rifle. The gunman would leave no evidence, leave no witnesses and was just getting started.
Join Jen and Cam on this episode of Our True Crime Podcast as we discuss The Ohio Sniper: When Hunters Become The Hunted .
As always, our listener discretion is provided by the fabu Edward October from @octoberpodVHS.
We could never edit this or sound decent without the hard work of Nico from @wetalkofdreams who does both for us.
Make sure to like and subscribe to Our True Crime Podcast wherever you listen to your podcasts. We can be reached on Instagram and Facebook at ourtruecrimepodcast or on twitter at @ourtruecrimepod. You can email us at ourtruecrimepodcast@gmail.com
If you really like the show, make sure to check out our Patreon at Our True-Crime Podcast to gain access to even more OTCP stuff.
Sources:
https://en.wikipedia.org/wiki/Thomas_Dillon
The Discovery Channel's The FBI Files episode "Human Prey," S1, E3, Air date: 1998.
https://www.cbsnews.com/news/a-snipers-mind/
https://www.dispatch.com/content/stories/local/2011/10/22/killer-dillon-who-hunted-outdoorsmen-is-dead.html
https://wickedwe.com/thomas-dillon/
Hunter of Humans: The True Story of Thomas Lee Dillon by David Lohr
Man who'd aim at anything is finally the law's target By David Knox, Jolene Limbacher and Kim McMahan: Akron-Beacon Journal. January 24, 1993.